Mike Nichols was one of the greatest directors of his or any generation, past or present.  He had a way with actors, much like the equally gifted Sydney Lumet.  He was never one for flashy visuals or obnoxious set-pieces… he was all about the performances and what they brought out in order to service the story.
He lived a talented life and left a legacy for all of us to enjoy.  Beginning with his satirical comedy days with Elaine May, he moved into film directing.  Below, are some of my favorites.
Who's Afraid of Virginia Woolf? (1966)
In Mike Nichol's death, much has been said about his warm nature as a person.  He was someone capable of gracious acts of kindness.  His sense of humor reflects that about him.  Perhaps his unique ability of handling human behavior left him a keen sense of how to portray humans being so utterly cruel to each other.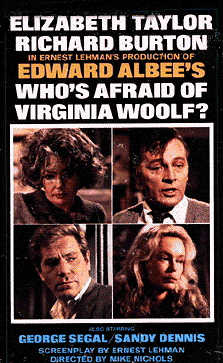 Who's Afraid of Virginia Woolf? is his first film.  Watching it is like watching some inescapable situation that's growing darker and darker by the minute.  George and Martha (Richard Burton and Liz Taylor in their best movie together) drink too much, scream at each other and, worse yet, drag another couple down to their level–or maybe that young couple was already at their level and just took some minor persuasion to give into their uglier inclinations.   Who would have thought that watching two drunks berate each other and wound each other souls for an entire movie's run-time would have been watchable as a film?  Ernest Lehman's brilliant play is brought to life by Nichols and it's one of the all-time great American films of the 20th century.
The Graduate (1967)
It's impossible for me to actually comprehend the idea of making two movies back-to-back that are equally great as Nichols' freshman and sophomore pictures.  Scorsese has made one movie followed by the other that are both genius, but Who's Afraid of Virginia Woolf? and The Graduate are so unlike each other, both analyzing completely different aspects of human nature with a unique musing on the human condition.  His first movie is so relentlessly hellish, this Stygian march into madness…. whereas The Graduate is kind of a predecessor for the all-too-awkward humor in a TV show like Louie.
Dustin Hoffman stars in one of his best performances and Simon & Garfunkel's soundtrack is perfect.  Can you hear the line, "Hello darkness my old friend," without picturing Hoffman in a side profile at the airport?  Quentin Tarantino has said that he tries to steal from the best, and stealing the opening of The Graduate for Jackie Brown is about as good as theft can get.
It's every bit as good as Virginia Woolf but you won't feel like taking a shower afterward. It's about as iconic as movies can get.
The Birdcage (1996)
I wrote before about The Birdcage in order to celebrate the late Robin Williams in one of his best performances.  In between The Graduate and The Birdcage, Mike Nichols did a lot of great work, but The Birdcage is one of my favorite comedies of… ever.  The whole climactic dinner scene is so uncomfortable and so hard to watch sometimes, but it's this perfect blend of genuine laughs and nervous chuckles in between wringing your hands.
I hate most remakes, but The Birdcage brought a lot of fresh energy to the plot of the original La Cage Aux Folles, while honoring what made it so funny in the first place.  Elaine May wrote the adapted screenplay, so there was a bit of a reunion going on.
Some directors have a way of bringing out the best in an actor and this movie has a cast filled with greats.  The whole thing is awesome to watch.
Closer (2004)
I think there's a point to the movie Closer that's more than just:  Talented actors armed with good dialogue do and say mean shit to each other.  I'm sure there's a deep point to everything, that it's saying something about the human condition or something, but all I know is that if you want to watch something that spits acid and has a cynical heart, you can't do much better than this.
Natalie Portman, Julia Robert, Clive Owen and Jude Law have all been good in other things, but I think this captures them at just about the best they've ever been.
We watch movies for a variety of reasons.  We watch comedies to laugh, horror movies to scream, and sometimes we watch fucked up movies that make us feel better about our own lives.  I might have bills to pay and bullshit to take care of, but at least I'm not these assholes.